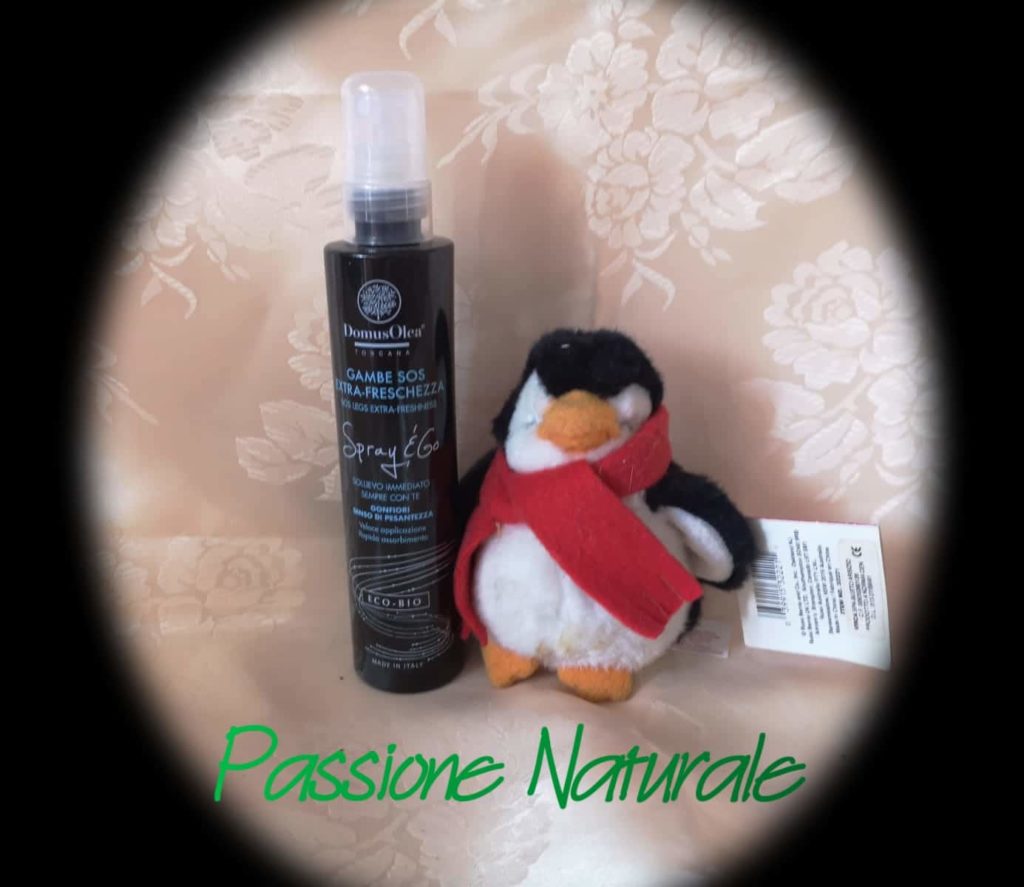 Domus, ne ho parlato spesso in altre recensioni, è un'azienda leader sul mercato: i prodotti per capelli sono eccellenti e così anche quelli viso.
E' la prima volta che provo un loro prodotto corpo e, come immaginavo, ha soddisfatto ampiamente le mie aspettative.

La bellezza di questa azienda risiede non solo nella ricerca di formulazioni particolari e ben congegnate, ma anche nell'etica che li spinge ad essere fedeli alla scelta ecobio.
Lungi dall'essere degli 'ecofurbi', non c'è bisogno di fare l'analisi dei loro inci per sapere che non troveremo sorprese.
L'inci dello spray&go gambe è, infatti, il seguente.
Aqua, Menthol, Helianthus Annuus Seed Oil*, Cetearyl Glucoside, Myristyl Myristate, Glycerin°, Caprylic/Capric Triglyceride, Dicaprylyl Ether, Linum Usitatissumum Oil*, Aloe Barbadensis Leaf Juice*, Isoamyl Cocoate, Olea Europaea Leaf Extract*/**, Cupressus Sempervirens Leaf/Stem Extract*/***, Vitis Vinifera Leaf Extract*/**, Helichrysum Italicum Flower Extract*/**, Arnica Montana Flower Extract*, Glycyrrhiza Glabra Root Extract*, Mentha Piperita Leaf Extract*, Eucalyptus Globulus Leaf Extract*, Aesculus Hippocastanum Seed Extract*, Ruscus Aculeatus Root Extract*, Vaccinium Myrtillus Fruit Extract*, Prunus Armeniaca Kernel Oil*, Prunus Amygdalus Dulcis Oil*, Allantoin, Ascorbic Acid, Ascorbyl Palmitate, Potassium Chloride, Cetearyl Alcohol, Cetyl Alcohol, Lecithin, Mel*, Tocopherol, Tocopheryl Acetate, Rutin, Escin, Sodium Ascorbyl Phosphate, Citric Acid, Arginine, Lecithin, Glyceril Linoleate, Glyceril Linolenate, Sorbitol, Phenoxyethanol, Ethylhexylglycerin, Potassium Sorbate, Sodium Benzoate, Retinyl Palmitate, Guar Hydroxypropyltrimonium Chloride, Xanthan Gum.
*Da Agricoltura Biologica / From Organic Agricolture.
**Sviluppato presso Polo Scientifico e Tecnologico dell'Università di Firenze /Developed at Science and Technology Center of The University of Florence. ***Estratto di fitocomplesso esclusivo Domus Olea Toscana / Domus Olea Toscana's exclusive phytocomplex extract. °Di origine vegetale / From plant origin.
SOSTANZE FUNZIONALI: Mentolo, Menta, Eucalipto, Fitocomplessi esclusivi Domus Olea Toscana di Olivo, Vite, Cipresso ed Elicriso, Estratti di Ippocastano, Rusco, Arnica, Mirtillo, Liquirizia, Escina, Rutina, Olio di Girasole, Lino, Mandorle, Albicocca, Vit. A, E, C, Aloe, Miele, Allantoina.
Questa emulsione essendo ad alto contenuto di Mentolo dona un piacevole effetto extra-fresco e un sollievo immediato alla pesantezza delle gambe.
Adatta a chi sta molto in piedi, soffre di problemi circolatori, ristagno idrico ed è particolarmente indicata durante la stagione estiva.
Come l'ho usata:
Avendo passato le vacanze in montagna, la sera, tipicamente dopo 1000m di dislivello e 18km di camminate, le gambe erano estremamente affaticate.

Per dare sollievo immediato la prima cosa che facevo era svestirmi, farmi una doccia e *senza* asciugare le gambe, ma solo tamponandole, procedevo a spruzzare l'emulsione insistendo soprattutto sui polpacci e i quadricipi.

Dopodichè procedevo a un velocissimo massaggio di 30 secondi: l'assorbimento era subitaneo.
La freschezza ed il sollievo erano immediati.

Prima di andare a dormire usualmente ridavo una spruzzata e poi mi coricavo.
La mattina seguente le gambe erano totalmente rilassate.
Lo consiglio decisamente a chi soffre di pesantezza agli arti, a chi ha le gambe gonfie e necessita di immediato sollievo, a chi cammina molto per lavoro e non.
E' un prodotto valevole, con un alto rapporto qualità-prezzo.

NB: Dopo averla applicata, se la toccate con le mani poi sciacquatele onde non toccarsi successivamente gli occhi ed irritarli con il mentolo ivi contenuto.